Security Operations Centre
We design, deploy, handover and train your staff to run the Cyber security operations centre (CSOC), and where required, we will resource, run and maintain CSOC. Our specialty is in designing and deploying SOCs – CSOCs, SSOCs, vSOCs, computer security incident and response teams (CSIRT), computer emergency and response teams (CERT), intelligence and fusion centres, national cyber security programmes and cyber security projects. Through our assignments with big government departments, we have established a reputation as one of the known and leading micro subject matter experts (SMEs) to engage in cyber security projects, such as.
Cyber SOC, Strategic SOC and Joint SOC
National Computer Security Incident Response Centres (CSIRT)
Computer Emergency Response Team (CERT)
Government Computer Security Operations Centres (SOC)
National Cyber Security Programmes
Government ICT Projects
Intelligence Fusion Centres
National Cyber Security & National Intelligence Services
IT Health Checks (ITHC) & Penetration Testing
Security Advisory, Intrusion Detection, Data Fusion, and
Protection to Critical National Infrastructures (CNI)
Further, we design, deploy, manage and support digital forensic programmes for organisations, comprising e-discovery, digital evidence gathering, preservation, analysis, chain of custody and presentation in a court of law. We are hugely successful in the rollout of enterprise-wide forensic readiness initiatives, which assist organisations, prepare and be ready in the event of incidents leading to investigations such as:
Create National Forensic Readiness Programmes
Implement controls to detect Threats & Computer Crimes
Gather evidence relating to Computer Crimes, Abuse, Policy Violations & Security Incidents
Support existing Governmental ICT Projects
We are also on the Government G-Cloud v9, Digital Marketplace (DMP). Our vSOC service, which is a sought-after Cyber security operations centre service is available on this link.

vSOC service is designed to support organisations requirement for Cyber Security & Security Monitoring. Allowing for requirements gathering, design, handover and training of staff to operate the Cyber security operations centre. The vSOC service – CSOCs, SSOCs, SIEM allows protective monitoring logs, threat intelligence feeds, CERT and vulnerability information fusion.

Benefits
Supports digital forensic programmes for the organisation
Provides huge cost savings
Offers Protective Monitoring
Offer e-discovery and digital evidence gathering
Flexible and customisable reporting
Preservation, analysis, chain of custody and presentation
Cyber Incident Response Processes
Training
Quick & Easy to setup and deploy
Flexibility and Customisation
Compliance to Cyber Essentials Plus, CiSP Threat Intelligence Sharing Partners & Cyber Insurance
We offer three SOC services, Classic, Enhanced and Supreme.
Each service is designed to meet specific customer requirements, ranging from detection of common attacks, sophisticated attacks to addressing compliance obligations, and policy requirements. Further, we have provided granular features of each service to allow customers to choose the most appropriate service to meet their unique needs,  the features allow customer to compare explicitly amongst our vSOC services.
Interested in one of the vSOC services, please do not hesitate to contact us by completing this form. Thank you!
Features
Enterprise design, full life cycle engagement of the SOC
Cyber security and situational awareness
Security compliance, MI reporting, Dashboard and Protective monitoring
Virtual SOC, SSOC, CSOC
On a time and material (T&M) basis
Experience and expertise
Automated and realtime Threat Intelligence feeds
Cros-correlation of threat intelligence feeds against the monitored logs in order to identify threats and IoCs
Real-time alerting of security events and incidents
Correlation of events and logs from multiple sources
Realtime report, and compliance reports for ISO2700x, Good Practice Guide #13 (GPG13), FSMA, PCI-DSS, GDPR, HIPAA etc.
Customisable reporting, supporting drill-down rich feature-set that can be tailored to CxOs, and Technical stakeholders alike
Customisable Usecases and rulesets for various threat matrix and scenarios
Various rich set of plugins for Applications, Apps, Servers, ICT and even SCADA systems and PLCs
API for various Systems and Apps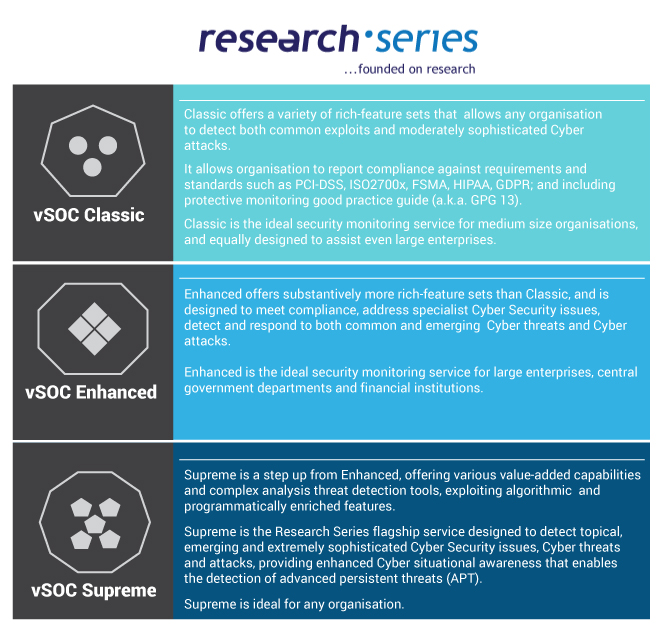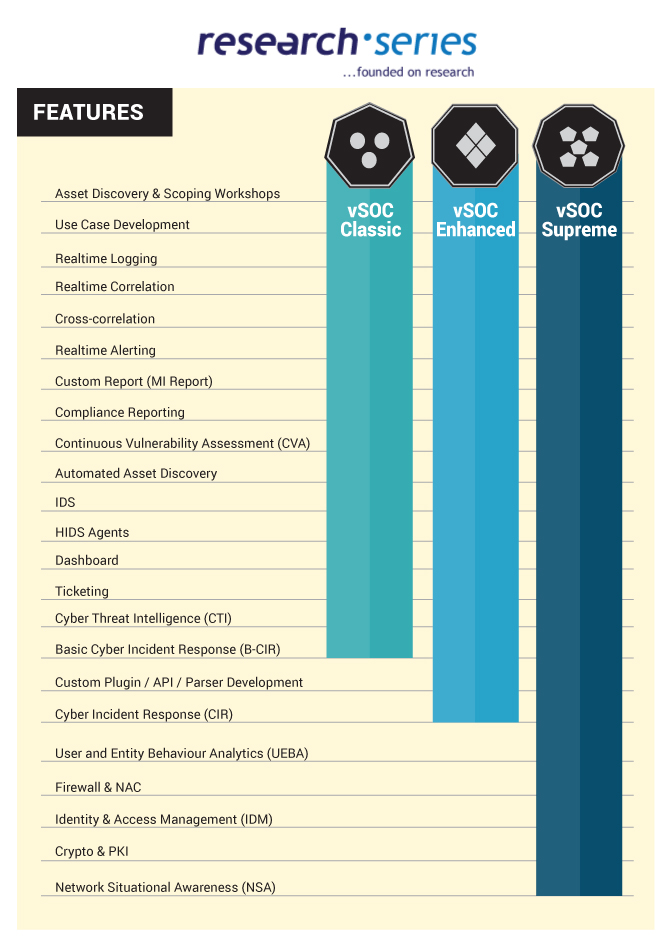 To inquire about the vSOC service, please click here